A report by the European Federation of the Pharmaceutical Industry (Efpia) insists that our continent has lost 25% of its weight in this area in the last 20 years
This loss of European competitiveness has a direct implication for citizens, with less access to new medicines or the possibility of participating in innovative clinical trials
Source: farmaindustria.es
Investment in research and development of new drugs is shifting to the United States and China, which in the last 20 years have increased their investment in this area to the detriment of Europe. The Old Continent now accounts for 31%, 25% less than in 2001, according to a report by consultancy Charles River Associates for the European Federation of the Pharmaceutical Industry (Efpia) published on Monday. In the same time, China has multiplied its market share from 1 to 8% and the US has gone from 44 to 52%. Japan has fallen from 14 to 9%.
In terms of investment, the difference is striking. Whereas in 2002 the US invested $2 billion more than Europe in drug research and development, the gap has grown to more than $20 billion today. The pharmaceutical industry continues to increase its R&D investment in Europe, but while it has grown by 3.75% annually in the first twenty years of the century, in the US it has grown by 5.78%.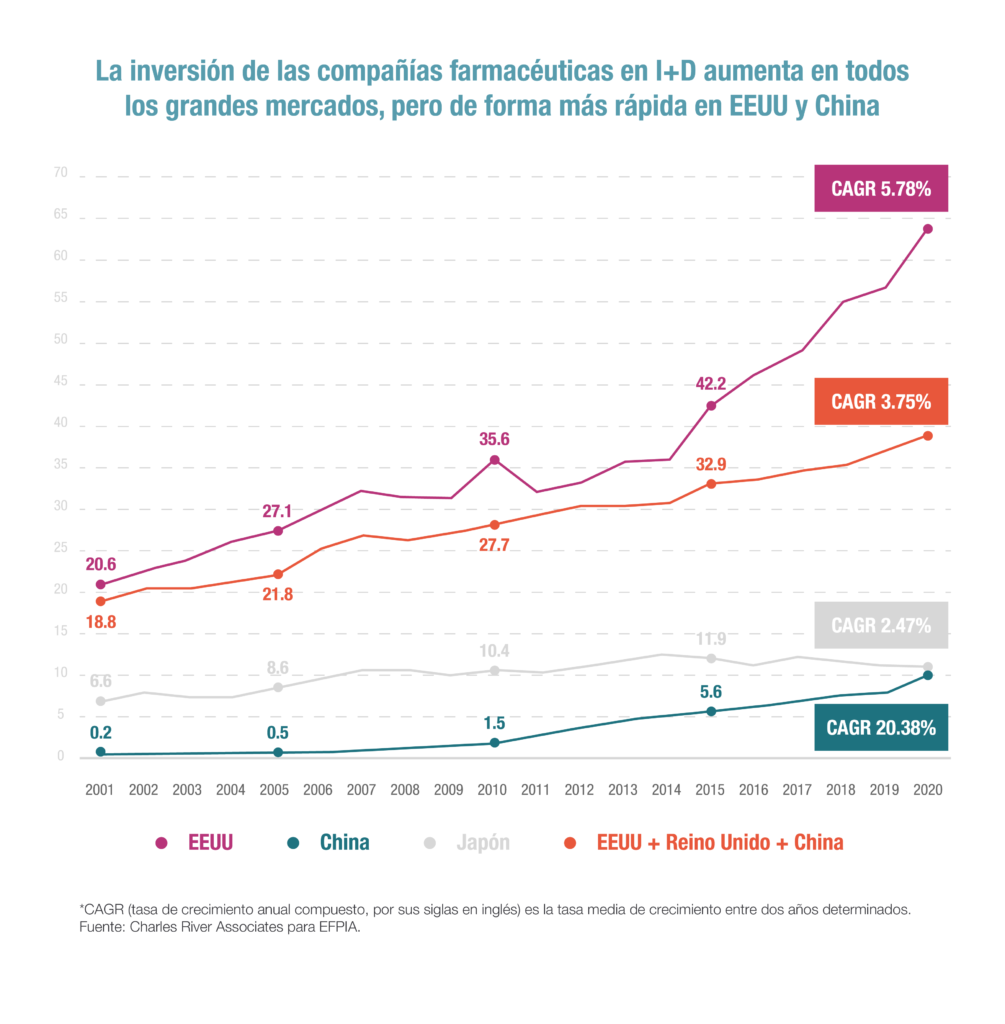 The loss of European competitiveness vis-à-vis other markets has a direct implication for citizens, who, as the report reflects, are exposed to less access to new medicines or to the possibility of participating in innovative clinical trials.
The situation is particularly serious for advanced therapies (gene, cell and tissue therapies) used for serious diseases and some types of cancer. For these innovative treatments, the number of clinical trials in Europe is three times lower than in China and half the number in the US. From 2014 to 2021, the US and the Asia-Pacific region experienced strong growth of 70% and 67% respectively, while Europe stagnated.
El informe subraya que otra forma de observar esta realidad es a través del empleo en el sector. Así, los trabajadores dedicados a investigación y desarrollo de nuevos fármacos en China han crecido un 800% desde 2001, por un 30% en Europa. Aunque el informe señala que la forma de medir el empleo puede diferir entre los distintos mercados, destaca la posición de China, que superó a Europa en 2012 y pisa los talones a Estados Unidos desde 2020.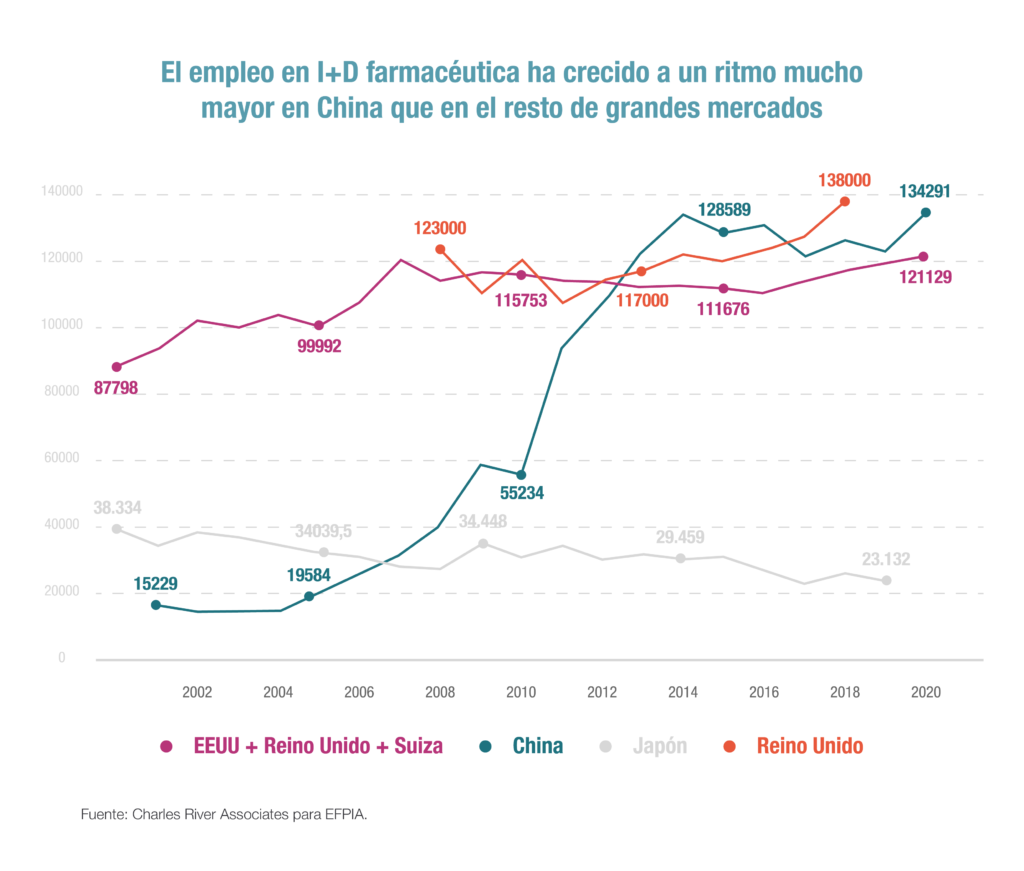 Efpia CEO Nathalie Moll stresses that "it could not be more important for patients – and for the future of medicines development in Europe – that the Commission and national governments work with industry to sustain – and grow – the sector here in Europe. To achieve this, the focus must be on adopting best practice across the life sciences ecosystem to emulate the successes of ambitious, world-leading regions such as the US and Asia."
"While the Commission's goal of balancing Member States' economic sustainability and future innovation is correct, the current positioning will have a negative impact on patient care and further erode Europe's competitiveness," says Moll of the draft European Pharmaceutical Strategy.
Seven proposals to boost Europe
Against this unfavourable backdrop for Europe, Efpia puts forward a series of policy recommendations to address the situation and divides these into seven areas.
1. Encouraging the development of true global innovation centres in the EU
Pharmaceutical R&D is growing, but moving out of Europe. The report notes that Europe invests uniformly and prioritises equity over quality. It calls this a weak strategy and believes the European Commission should consider a more strategic allocation of resources to high-growth locations.
2. Improving capabilities and funding for disruptive innovation
The proportion of emerging biopharmaceutical companies has been declining in Europe for years. The report notes that while such companies from the US and China may invest in Europe as they grow, they will also invest in their home countries. The EU's pharmaceutical strategy recognises the importance of funding small companies, but the report reflects that it should go further and points to places like Denmark, where some 200 biomedical companies have been created between 2017 and 2022.
3. Rethinking supply chain policies to attract R&D investment in advanced therapies in Europe
Advanced therapies are the therapies of the future, of which 804 biotherapies (such as cellular, gene or mRNA technology) and more than 8,000 new drugs are already under investigation. It is an area strongly led by Europe, which, as the report reflects, has half of the world's manufacturing plants. Asia is becoming the most competitive region for clinical trials in these types of therapies, with 255 underway in 2021, while Europe is losing steam, with 89 last year.
For all these reasons, the report suggests that Europe should recognise the complexity of these technologies and build the necessary ecosystem to develop them, with the advantage of having a large academic research scene, as between 2017 and 2019 Europe produced 48,000 more publications than the United States and 20,000 more than China in relation to these types of therapies. Why this research is not being translated into therapies, the report argues, is due to a siloed approach to policy and missed opportunities, which could be remedied by greater clustering in these therapies and support for manufacturing and clinical trials.
4. Supporting innovation with early access mechanisms
The development lifecycle of new medicines is changing and, the report notes, conditional approval is increasingly necessary to reach patients and conduct real-life trials. Efpia therefore believes that the European Commission should take into account that pharmaceutical legislation that promotes early access to medicines will make Europe more attractive for companies to locate their research, clinical trials and manufacturing here.
5. Driving the EU's digital transformation and supporting the development of digital skills
For the authors of the report, this is key to attracting investment. Efpia points out that the US is far ahead of Europe in digital infrastructure and interconnectedness, despite the fact that five European countries are among the top ten in the world in digitisation. Europe's leading R&D and manufacturing centres (Germany, Belgium and Ireland) are far from leading in digital competitiveness.
Thus, the European Federation of the Pharmaceutical Industry believes that the EU should strive to increase the interconnection of research centres, improve the training of scientists in digital technologies and accelerate the digitisation of healthcare systems.
6. Encouraging the adoption of sustainable purchasing and pricing policies
The report stresses that Europe's focus on offshoring and manufacturing of older generic medicines is a strategy that runs counter to the EU's long-term industrial policy objectives and, together with the lack of a sustainable market for innovative products, will harm innovation if the proposed revision of EU pharmaceutical legislation is not rethought.
7. Develop longer-term European policies and collaborations (15-20 years) to create stability for attracting biopharmaceutical investment.
The report stresses that decisions on investment in research and manufacturing sites are long-term decisions and clinical trials are often conducted over many years. It therefore argues that Europe needs a long-term approach to investment decisions, with a pharmaceutical strategy that is implemented through a partnership with industry. It calls for a forward-looking plan, with tangible and relevant jointly created key performance indicators to ensure that legislation, revised from this dialogue, has the desired impact and allows benchmarking of Europe's long-term competitiveness in attracting investment in R&D, clinical trials and manufacturing.