The sector invests 41.5 billion euros in research and directly employs some 840,000 people
300 billion, exports ¤565 billion and contributes ¤175 billion to the EU-27 trade balance
The current proposal to reform European pharmaceutical legislation threatens this contribution of one of the leading R&D sectors
Source: farmaindustria.es
The innovative pharmaceutical industry in Europe invests 41.5 billion euros in research and development of new medicines, employs 840,000 people – 125,000 of whom work in the companies' R&D departments – and produces 300 billion euros worth of products. Its exports already amount to 565 billion euros and it contributes 175 billion euros to the trade balance of the EU-27.
These are the main figures in the report The Pharmaceutical Industry in Figures 2022, with data up to 2021, published by the European Federation of the Pharmaceutical Industry (Efpia). The document confirms that, in addition to driving medical progress through research, developing and making available new medicines that improve the health and quality of life of patients around the world, the innovative pharmaceutical industry is a key asset of the European economy, because it is one of the highest performing high-tech sectors on the continent.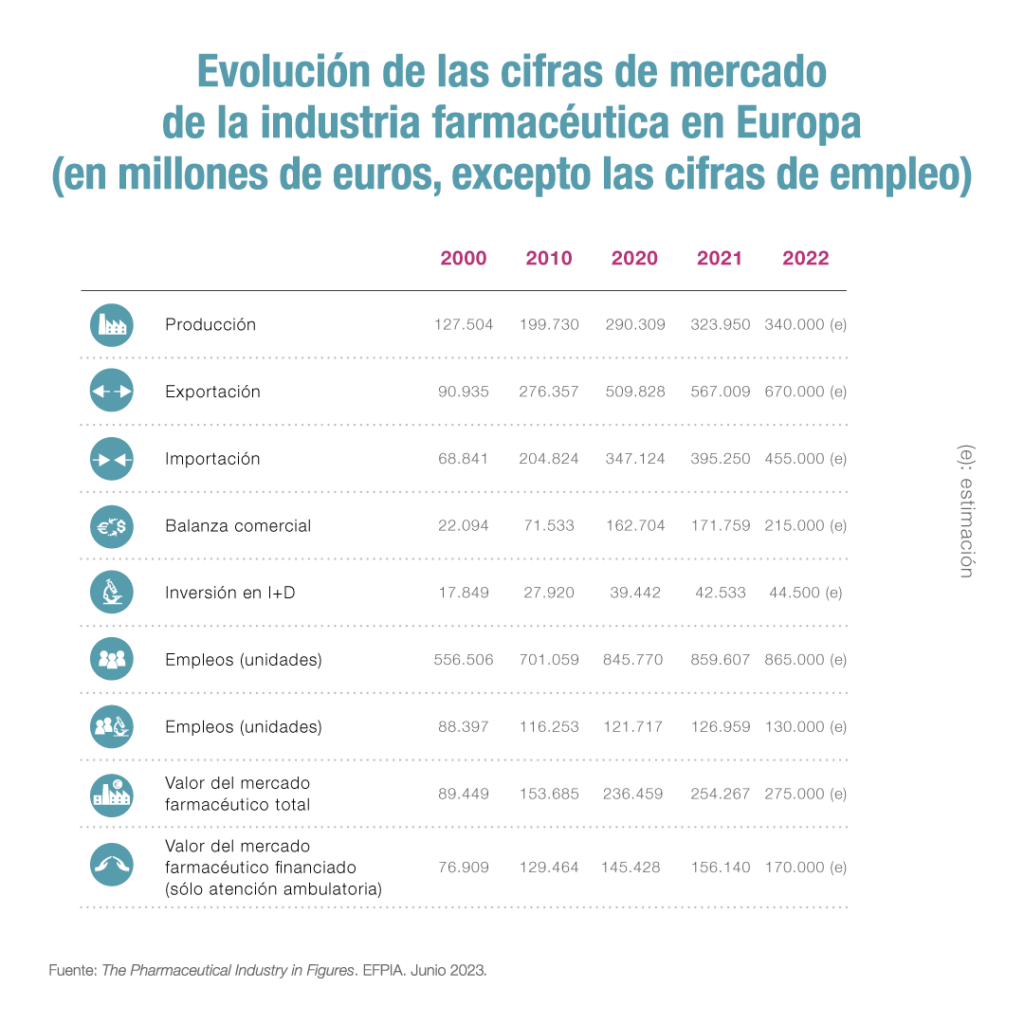 Thus, European citizens have seen life expectancy increase by up to 30 years in the last century thanks to advances in biomedical research: mortality from diseases such as HIV/AIDS or some cancers has been reduced; others, such as hypertension and cardiovascular diseases, can now be controlled with new drugs; and some tumours can be chronified or even cured with precision medicine. Therefore, the European population is not only living longer, but with a better quality of life. However, as the report cites, there are still major hurdles to overcome and diseases to address, such as Alzheimer's, many cancers and rare diseases.
In fact, these figures confirming the strategic value of the sector for Europe come at a worrying and uncertain time, following the announcement – just a few months ago – of the European Commission's (EC) proposal to update pharmaceutical legislation, which puts the future of the pharmaceutical industry at risk and represents yet another barrier to patients' access to innovative treatments.
Although the proposal contains improvements to the regulatory framework and boosts research into new treatments to combat antimicrobial resistance, it contains measures that weaken rather than strengthen the system of incentives for biomedical innovation. Thus, one of the measures included in the text is the reduction of regulatory data protection (RDP) from 8 to 6 years, which will have the effect of reducing Europe's competitiveness in terms of investment in R&D for new medicines compared to other regions.
In this context, Efpia has denounced that the EC's approach will mean a 25% decrease in biomedical R&D and a drop in Europe's overall share of clinical trials from 25% to 19%. In fact, figures the Federation manages show that R&D investment growth in China was more than three times higher than in Europe between 2018 and 2022.
"In addition to regulatory hurdles and escalating R&D costs, the pharmaceutical industry has been hit hard by the impact of tax measures introduced by most Member States since 2010," reads the Efpia report.
Rapid growth in Brazil, India and China
Against this backdrop, there is rapid growth in the innovation market in countries such as Brazil, China and India, which is driving the migration of this activity from Europe to these new and rapidly expanding markets. Specifically, these countries saw biomedical R&D grow by 11.7%, 6.7% and 11.8%, respectively, in the period 2016-2021. Meanwhile, the average growth of this activity in the top 5 EU countries was 5.8% and 5.6% for the US.
This drift has a direct impact on the performance of the drug market, with North America accounting for 49% of global pharmaceutical sales in 2021, compared to 23.4% for Europe. Also, 64.4% of sales of new medicines launched in the last five years took place in the US and only 16.8% in Europe's top 5 markets. This has a direct impact on patients, health systems and industry in the EU.
And therefore also impacts on the economy and employment. The innovative pharmaceutical industry is one of the largest generators of indirect jobs: three for every worker employed by the companies. Moreover, many of these are highly skilled jobs, many related to academia and science, which helps to prevent a European brain drain, says the report.
Europe is a hub of science and innovation, but that innovation is not being translated into patents and products as effectively as it should be. The challenge for the coming decades is not whether biomedical innovation will happen, but where it will happen and how patients in Europe can benefit from this enormous potential. The commitment of the pharmaceutical industry remains clear as the latest figures show; failure to incentivise it could disrupt this growing trend.