2021 closes with the best R&D investment figures ever: the pharmaceutical industry allocates 1,267 million euros to both private and public projects.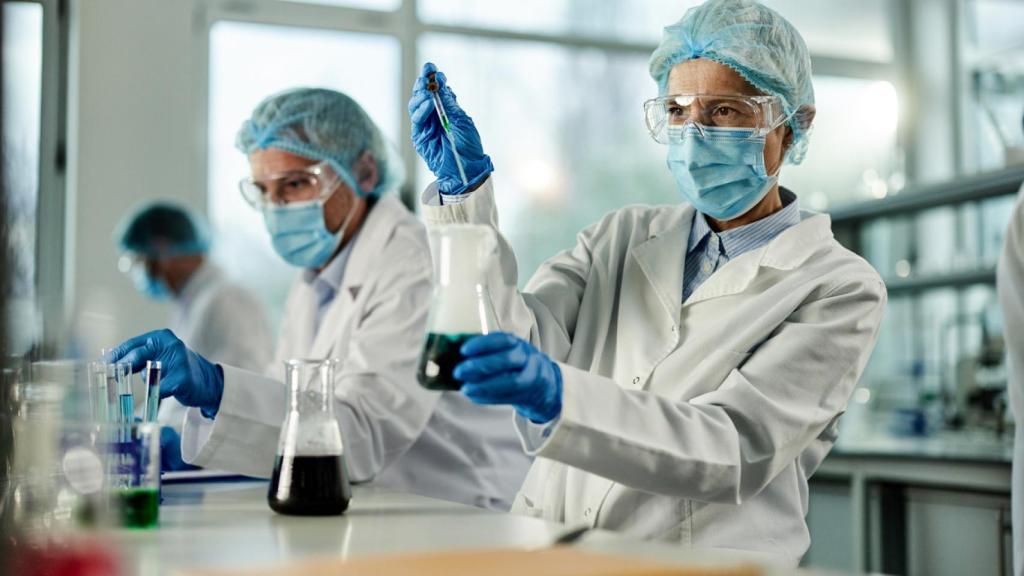 Source: elespanol.com
Investing in the research and development of new medicines is an essential activity for guaranteeing health and social well-being and improving the healthcare system. A country that is committed to biomedical research enables, among other things, rapid access to medicines or the development of drugs for diseases for which there is as yet no treatment.
Aware of the importance of allocating more money to the development of new drugs, the pharmaceutical industry invested 1,267 million euros in R&D in 2021, a historic figure that represents 9.2% more than in 2020, the second highest investment figure despite the difficulties caused by the pandemic. This is reflected in the data obtained by the Survey on R&D Activities developed by Farmaindustria, the National Business Association of the Pharmaceutical Industry established in Spain.
"The sector's constant commitment to investment in R&D is reflected in the fact that almost 20% of all industrial R&D carried out in Spain is carried out by the pharmaceutical industry. This represents more than 9% of the R&D carried out by the entire business sector in our country, and 6.1% of the total research of the Spanish economy, taking into account public and private research", emphasises Farmaindustria's general director, Juan Yermo.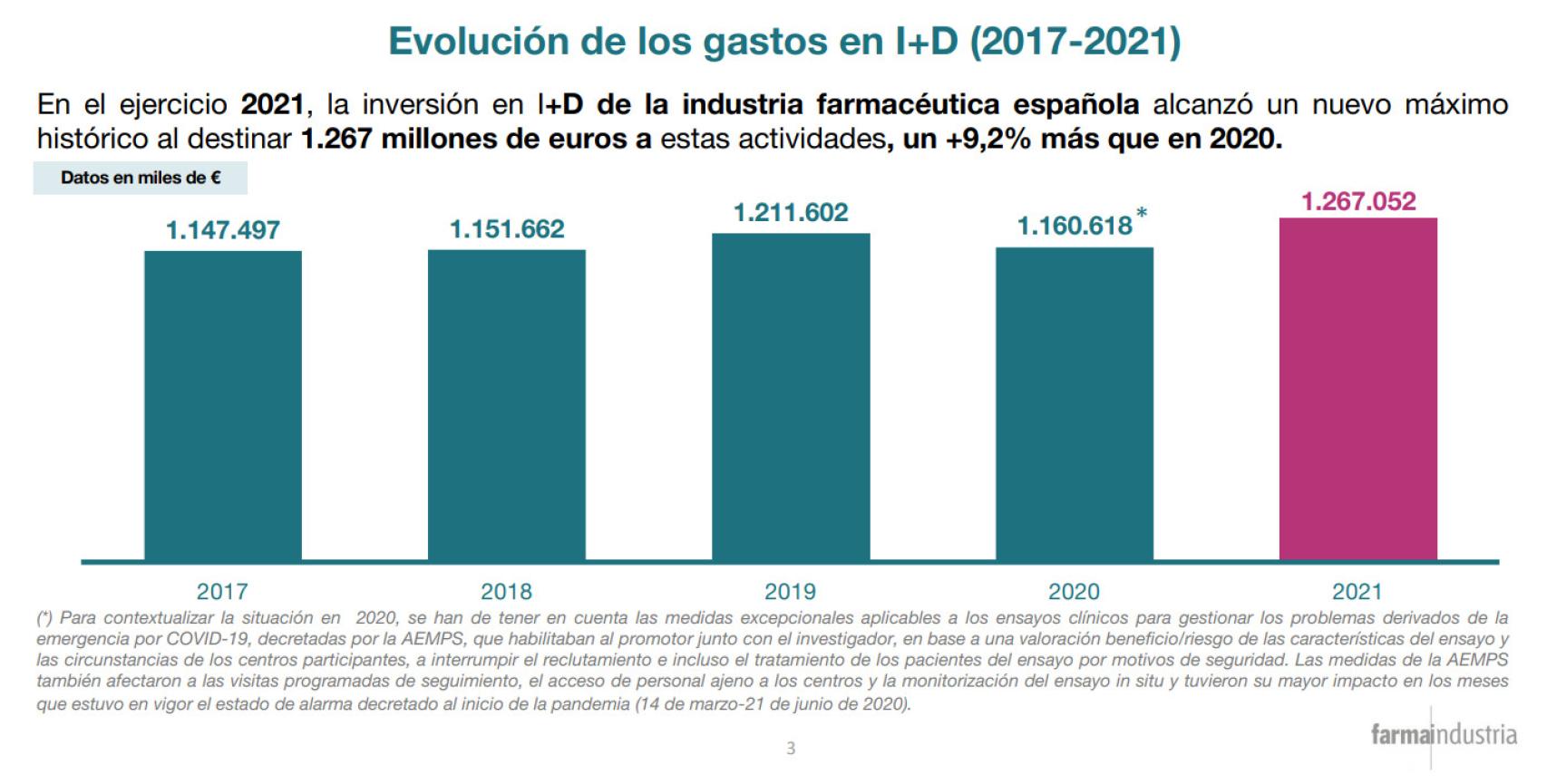 Of this R&D investment, 674 million euros went to the companies' own research centres (intramural R&D), which corresponds to 53% of total expenditure. The remaining 593 million euros went to research contracts with hospitals, universities and public and private centres (extramural R&D), an example of public-private collaboration. Moreover, all of Spain's autonomous communities benefited from this investment, although the Community of Madrid (34%) and Catalonia (31%) invested the most.
More than 60% of the investment, earmarked for clinical trials
The survey conducted by Farmaindustria also shows that more than 60% (789 million euros) of the figure invested in R&D during 2021 was earmarked for clinical trials, which are key to developing cutting-edge treatments and offering new hope to patients. Indeed, since 2011, investment in clinical research has increased by an annual average of 5.3%, from €470 million to €789 million in 2021.
Of the money invested in clinical research, 35% (275 million euros) went to phase I and II trials, the earliest stages of drug research and development, which are designed to test experimental treatments in people with a given disease. These two are the most complicated from a scientific point of view because experts need to give a safe treatment and observe its reaction in the body.

In addition to investing in clinical trials, the pharmaceutical industry also invested a total of 403 million euros in the field of biotechnology, 31.8% of total R&D investment in 2021. This decision is based on the important role of biotechnology in drug development. Thirty-three percent of innovative pharmaceutical companies use biotechnology or tools of biotechnological origin in the pre-clinical phase, intended for trials and tests to learn about the activity of the drug, and 57% also use them in the next phase, the clinical phase, which is already carried out on humans.
Higher quality for the entire healthcare system
This investment in R&D by the pharmaceutical industry during the 2021 financial year has not only had a significant impact on drug development, but has also strengthened employment in R&D departments, which is characterised by its high level of skills and equality. Thus, direct employment in the pharmaceutical industry in this area grew by 6.5% in 2021, reaching 5,393 people, the highest figure ever recorded in the sector.
Moreover, in terms of gender issues, currently two thirds of R&D employees in this sector are women and one in four female researchers in the Spanish industrial sector come from pharmaceutical companies, as shown by the latest data collected by the INE. "Quality employment is synonymous with wealth for countries. If we add that employment in innovative pharmaceutical companies is, for the most part, permanent and equal, we have the ideal equation to consider the pharmaceutical industry as a strategic sector for Spain," concludes Yermo.