The associate director of Clinical and Translational Research at Farmaindustria, Amelia Martín Uranga, explained at a forum organised by the POP that work is already underway on a document of recommendations to promote these studies at the primary care level
She demanded more centres in which to carry out clinical research so that more and more patients have the possibility of participating in a trial and do not depend on their postcode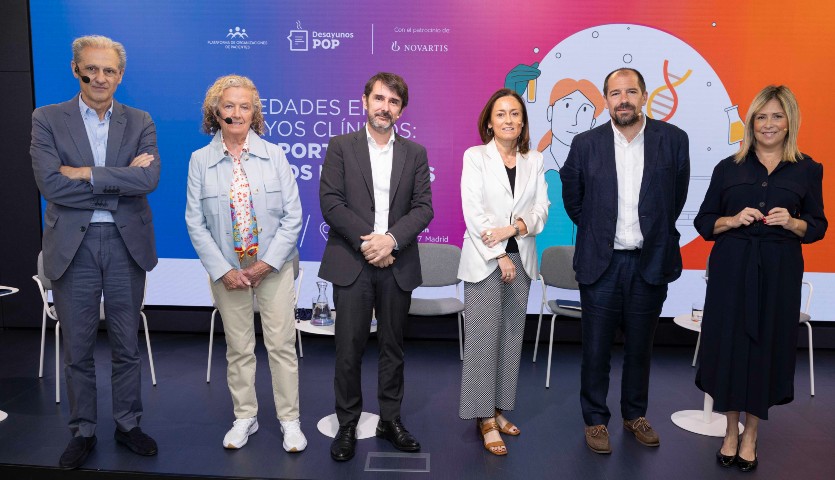 Source: farmaindustria.es
There is no longer any doubt that patient involvement is key to improving the results of clinical trials. Farmaindustria has been working on this for almost a decade, although the road is only just beginning to be travelled. "We have a need for patient involvement in clinical trial designs and protocols. But we must continue to improve. The steps that have been taken so far have great value, but we must not stop, because we have great challenges ahead, such as encouraging the inclusion in trials of more diverse population groups, training and information for patients in biomedical research, as well as explaining to society the value of sharing and reusing data, with ethical and legal guarantees, to make research more efficient".
This is how Farmaindustria's Associate Director of Clinical and Translational Research, Amelia Martín Uranga, opened her speech at the eighteenth edition of the POP Breakfasts – meetings organised by the Platform of Patients' Organisations (POP) – which was held last Wednesday in Madrid under the title New developments in clinical trials: an opportunity for patients.
The meeting was moderated by the director of the Servimedia news agency, José Manuel González Huesa, and was attended by the director of the Carlos III Institute, Cristóbal Belda; the oncologist and honorary member of the Board of Directors of the Solti Group, Ana Casas; the co-founder of Predictby and professor at the Universidad Oberta de Catalunya, Francisco Lupiáñez-Villanueva, and the president of the POP, Carina Escobar.
Martín Uranga recalled that an important step was already taken in 2020 with the publication of the Recommendations guide for the articulation of the participation of patients and patient associations in the pharmaceutical R&D process, a document promoted by Farmaindustria, in collaboration with a dozen patient organisations and as many pharmaceutical companies, which a year later was reflected in the publication of another specific guide for paediatric patients.
These reference documents are the result of the conviction to continue advancing in this direction and new steps are already being taken. For example, said the Farmaindustria spokeswoman, "bringing the trial closer to the patient's home. For this, research in primary care is vital. We are already working on a document of best practice recommendations for trials at this level of care and we have pharmaceutical companies very interested in developing them. Fifty experts are working on this initiative. In addition to representatives from all the autonomous communities, primary care scientific societies, researchers and R&D management experts, patient organisations are also being consulted.
We need more centres for clinical research," Martín Uranga added, "since 54% of trials are concentrated in Madrid and Catalonia. The pandemic has been key in this aspect, because it has shown that digitisation can achieve the necessary decentralisation and that more and more patients have the possibility of participating in a clinical trial. "This will lead to greater equity throughout the territory and that opportunities do not depend on the postcode," he stressed.
This equity is also necessary in access to therapeutic innovations: in Spain only 58% of the new treatments approved in the European Union are available to patients, while in Germany it is 88%, in Italy it is 80% and in France 67%. "The lack of access to medicines is a lost opportunity, above all for patients, but also for healthcare professionals and the pharmaceutical industry. Spain is a European leader in biomedical innovation and logic dictates that we should at least be on a par with the rest of the countries in the region. Added to this is the lack of equity in the autonomous communities, where many patients cannot access innovation or do so with delays or under restricted conditions. We need coordination to guarantee equity in clinical trials, but we also need coordination in access to innovation," Martín Uranga stressed.
"Spain is one of the best countries in phase I and II trials"
Spanish leadership in medical innovation is beginning to be reflected in the earliest phases of clinical research, the so-called I and II phases, which already account for more than 50% of the trials authorised each year by the Spanish Medicines Agency (Aemps). "Spain is one of the best countries in phase I and II trials, and this is great news for patients, because testing a drug at an early stage is a door to hope for patients with serious diseases," he explained.
However, we run the risk of falling behind. As the associate director of Clinical and Translational Research at Farmaindustria pointed out, there are already countries in Europe that have opted for a fast track (an anglicism to explain an expedited procedure) for phase I trials, which could displace research outside Spain. "Farmaindustria has called for this accelerated mechanism to exist in our country," he said, as well as the need to encourage innovation by pharmaceutical companies in Europe and not to displace it to other areas that may be more attractive to the pharmaceutical industry.
"Ninety-three percent of the trials launched in Spain are already multicentre and international, and competition is increasing exponentially with the Asia-Pacific region, which forces us to encourage innovation without lowering our level of demand," Martín Uranga stressed. He made these statements in the context of the current review of European pharmaceutical legislation and the entry into force last January of the new European regulation on clinical trials, which could add obstacles and opportunities to the necessary promotion of biomedical research in our country for the benefit of patients.